Profile: Jayanthi Mistry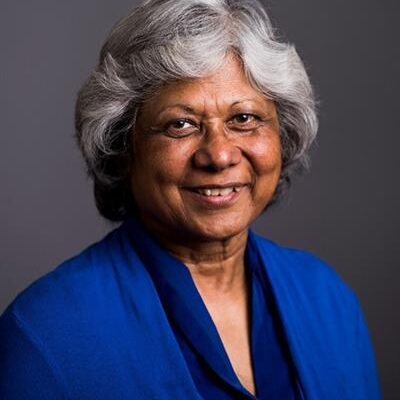 By Nirmiti Naik, School of Engineering '23

We are excited to highlight the perspectives and work of Jayanthi Mistry Ph.D., Professor, and Chair at the Eliot-Pearson Department of Child Study & Human Development at Tufts School of Arts and Sciences. Dr. Mistry is an applied development and cultural psychologist who uses her experience in community-based learning and teaching to bring a unique lens to equity research. Dr. Mistry's academic and professional pursuits are very telling of her belief in the importance of acknowledging individuals' narratives and collaborative, participatory research.

Dr. Mistry completed her undergraduate degree in Home Economics from the Public Agricultural University and her graduate degree in Child Development from the University of Baroda. Her studies in child development stemmed from her appreciation of English literature and character analysis, which blossomed into an interest in psychology. Soon after, she earned her Ph.D. in Child Development from Purdue University; while pursuing this degree, she realized that much of what she learned about research on normative development didn't represent her own experience. This led her to question what is normative, kickstarted her interest in culture, and gave her a critical lens/approach to theories. After her Ph.D., Dr. Mistry worked at the Center for the Development of Early Education at Kamehameha Schools in Honolulu, Hawaii where she got a first-hand view of community-based research by working alongside practitioners who served the families. More recently, Dr. Mistry has an ongoing collaboration with City Lights (a non-profit encouraging literary engagement in the youth) to foster awareness of marginalization/feelings of "not belonging" through reading narratives of others from backgrounds that are different than their own.

Dr. Mistry is serving on the co-leadership team of the Equity Research Cluster, where her personal interests in community-based research and the complexity of the human experience in an ever-changing world bring an important lens to the group's work. Her initial interest in the group was the opportunity to work with colleagues across disciplines as well as the focus on equity.  Research on equity and inequity aligns with Dr. Mistry's individual interests in culture, personal narratives, and our perceptions of ourselves and others. Her theoretical research is focused on investigating the processes by which people get constructed as "other", and considering how culture, institutional context and lived experience inform our "meaning-making" systems. What are the institutional, social, and individual processes that generate these inequities? These questions are critical to the research of (in)equity since understanding how and why inequities arise is just as important as understanding their impacts on society.

The Equity Research Cluster's work to date has been extremely effective at generating knowledge from a research view to be disseminated; in addition, Dr. Mistry's research in varied settings (particularly, community-based) enables her to see different research approaches that can be contrasted. She has a strong belief that collaborating with communities to design and undertake research would allow equity research to be more fruitful since their voices and lived experiences would be amplified and given a platform to be shared. This notion of a broad, well-rounded perspective is ingrained in the foundation of the Equity Research Cluster since interdisciplinary researchers, like Dr. Mistry, bring their unique skillsets and research focused on investigating equity and inequity across the United States.

In terms of the future of the Equity Research Cluster, Dr. Mistry hopes that the group will consider breaking the boundaries between institutional research and the communities being served in order to hear their voices and address the experienced inequities. She would like to consider applications of the knowledge that the group has generated so far; learning about people's notions of inequities is vital to our understanding of society and now, how can we productively use this information?  Engaging with communities  would be a step that the ERC could take in the direction of addressing the inequities that exist in our social, political, and institutional structures.  


Subscribe to News from the Equity Research Group
Equity-related events and research across the Tufts campuses and beyond.
Subscribe!